Private Equity Groups Continue to Target Precision Industry
Savvy private equity groups continue to move into the precision manufacturing industry. Pine Island Capital Partners, LLC (partnering with Bain Capital Credit, LP), a Washington D.C. PEG agreed to a buyout to acquire Precinmac Precision Machining. Precinmac is a four-division precision shop with locations in the US and Canada. Pine Island Capital Partners made 4 acquisitions in this industry during the last year, and other private equity groups look to join in on the action, citing high-growth and increasing/sustained demand throughout the sector.
Precedent Comparable Transactions: Manufacturing Industry
High demand from Private Equity Groups and Strategic Buyers have been driving attractive prices for sellers. Main Street companies (below $5,000,000 in revenue) in the Precision Manufacturing industry (SIC 3544, 3545, and 3599) had a SDE1 Median Multiple of 3.1x, based on 64 transactions between 2015 and 2021.
Middle Market companies (above $5,000,000 in revenue) in the Manufacturing industry (SIC 3544, 3545, and 3599) had an EBITDA2 Median Multiple of 6.0x, based on 10 transactions between 2005 and 2021.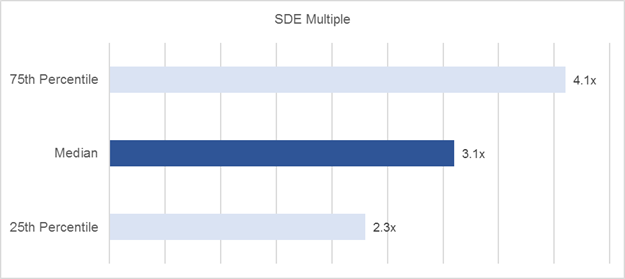 The Small and Lower-Middle Market businesses in the precision industry are also in high demand. We are seeing an increase in purchase price based on SDE multiples across the Lower-Middle Market.
If you're contemplating a sale of your manufacturing company or simply would like a complimentary value range, contact a Sunbelt Advisor today. We have closed multiple strategic and financial transactions in the precision manufacturing industry and have industry specialists ready to answer any of your questions.
Visit Article: Selling a Manufacturing Company During COVID, Riots and Elections