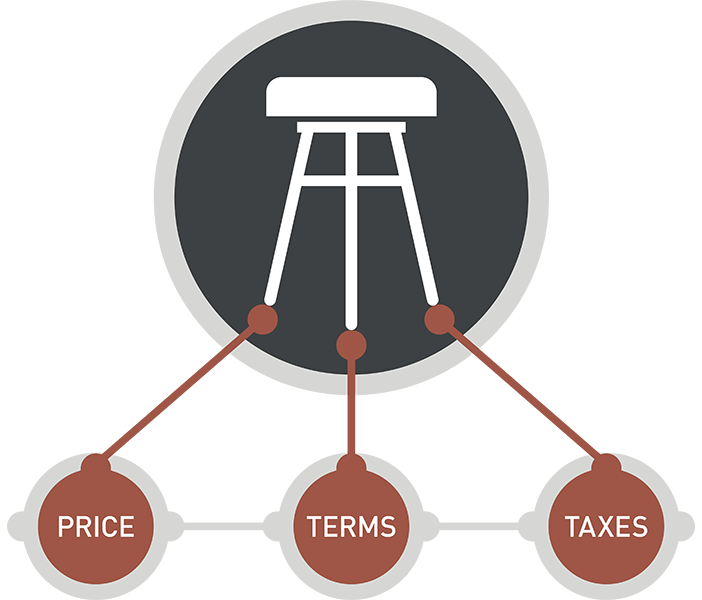 There are many ways to exit your business. Many business owners have been approached directly by buyers. But finding a buyer is only the beginning. Sunbelt will help you build a bridge to the right buyer. We help you engineer a deal that doesn't leave money on the table. Here's how:
The Devil You Know.
Many owners are scared to death by the idea of proactively marketing their business for sale. So rather than confidentially approaching multiple buyers, they settle for a buyer that is the "devil they know". This buyer is often a competitor that will not pay the best price or isn't big enough or motivated enough. This buyer could be a family member or key employee who really understands the business but has limited financial wherewithal. Or perhaps a partner, who like the competitor, will usually pay the least for the business. In every case, the business owner is limiting their options and ignoring an enormous market of motivated, highly qualified and well-financed buyers.
Financing.
Picking the wrong bank can cost you dearly. Sunbelt will explore the best options for financing for your business.
Working Capital.
One of the top errors that sellers make is properly defining what is included and excluded from the sale. Is your accounts receivable included in the price? If your inventory goes up drastically before closing, do you get a price increase?
Taxes.
Another common mistake is tax allocation of purchase price. Engage Sunbelt, and before we launch your confidential marketing, we will sit down with you and your tax advisor to discuss tax strategy to minimize taxes so you understand your net proceeds after taxes.
Normalizing your financials.
Presenting your financials to buyers is a critical step. Mistakes here can cost you money on your price or even kill a deal in due diligence. We'll review your financials to make sure that we understand the true earning power of your business and that buyers do as well.
Story.
Providing only financials to buyers is a mistake. They need to understand what makes your business unique. Sunbelt's dedicated profile writers will craft a Confidential Business Profile that highlights your company's value, including Customers, Employees, Products & Services, Industry Data, and much more.
Time & Money.
Selling a business is time-consuming. While your business is for sale, it needs to be hitting on all cylinders. If your business suffers because you are trying to manage your business and sell your business at the same time, it is sure to cost you your time and your money.
Negotiating the Deal.
Most people will only sell a business once in their lifetime. Business Brokers and M&A Advisors do it every day! That experience is invaluable for avoiding common mistakes and maximizing net proceeds in a sale.
Due Diligence.
It is very common for buyers to ask for a price reduction in due diligence. This is often tied to surprises that were not disclosed in the business profile or properly explained in the financial presentation. Sunbelt understands what buyers are looking for and how to help you avoid this scenario. Having multiple buyers helps, too.
Success Fee.
Sunbelt gets paid at the same time you do – at the closing table. Meanwhile, our forms & processes are designed to help you in the process and minimize your legal and accounting fees.
Contact Sunbelt and learn how to net more when you sell.