Winsupply Eyes Distribution Expansion for its Fifth Acquisition of 2021
Winsupply Inc., a supplier and distributor of various residential and commercial construction and industrial supplies and equipment, acquired Clausen Supply out of Clinton, Iowa on September 2, 2021. Clausen serves as a main distributor in the HVAC industry in the eastern Iowa region. Jon Clausen, Clausen Supply's previous owner, is set to exit the company immediately following the closing. This acquisition marks the fifth that Winsupply has completed since the beginning of 2021. Its most recent acquisition came in July, when they purchased Simon Supply Company, a plumbing distributor with five locations in the northeast region of the USA. In June, Winsupply acquired Atlantic Coastal Supply, a specialty plumbing distributor out of North Carolina. They also acquired Allegheny Pipe & Supply and Discount Drainage Supplies, both plumbing and waterworks distributors located in Pennsylvania and Ohio, respectively. Following these acquisitions, Winsupply now operates 630 wholesaling locations across 45 states, including five corporate headquarters, five distribution centers, and hundreds of operating locations. Winsupply continues to see growth prospects through acquisitions to expand and build out its geographic footprint.
High demand from private equity groups and strategic buyers have been driving attractive prices for sellers in this industry across the country.
Precedent Comparable Transactions: Distribution Industry
Middle Market companies (above $5,000,000 in revenue) in the Distribution industry (SIC 50, 51) had an EBITDA2 Median Multiple of 5.4x, based on 77 transactions between 2018 and 2021.
Main Street companies (below $5,000,000 in revenue) in the Distribution industry (SIC 50, 51) had a SDE1 Median Multiple of 2.7x, based on 252 transactions between 2018 and 2021.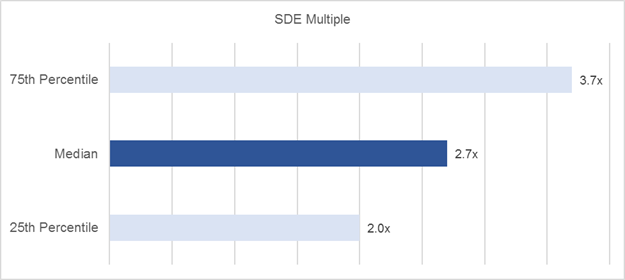 If you're contemplating a sale of your Distribution company or simply would like to understand your options, contact a Sunbelt Advisor today. We have closed multiple strategic and financial transactions in the Distribution industry and have industry specialists ready to answer any of your questions.
We also offer a no-obligation, complimentary value range for your company.
1Seller's Discretionary Earnings – Seller's discretionary earnings is defined as net profit before taxes and any compensation to owner plus amortization, depreciation, interest, other non-cash expense and non-business-related expense and normally to one working owner. (Source: BV Market Data)
2Earnings Before Interest, Taxes, Depreciation and Amortization (EBITDA) – EBITDA is Net Income with interest, taxes, depreciation, and amortization added back to it. EBITDA can be used to analyze and compare profitability between companies and industries because it eliminates the effects of financing and accounting decisions. However, this is a non-GAAP measure that allows a greater amount of discretion as to what is (and is not) included in the calculation. This also means that companies often change the items included in their EBITDA calculation from one reporting period to the next. (Source: BV Market Data)