By Matt Silasiri – Marketing and Business Development Manager
The Boy Scouts of America have a simple motto that has served them well since 1908:
"Be Prepared"
Preparation is a key ingredient in success, and nowhere is that truer than when the time comes for a business owner to exit their business.
So, how prepared are Minnesota business owners? Earlier this year, our friends at the Exit Planning Institute conducted the 2023 Minnesota State of Owner Readiness survey.

They surveyed 309 Minnesota business owners to determine their exit readiness, and we'll be sharing the findings with you in the weeks and months ahead.
Let's dive in.
52% of respondents indicated they wanted to transition their current company in 5 years. But let's take a closer look:
How Owner Readiness Has Changed Since 2017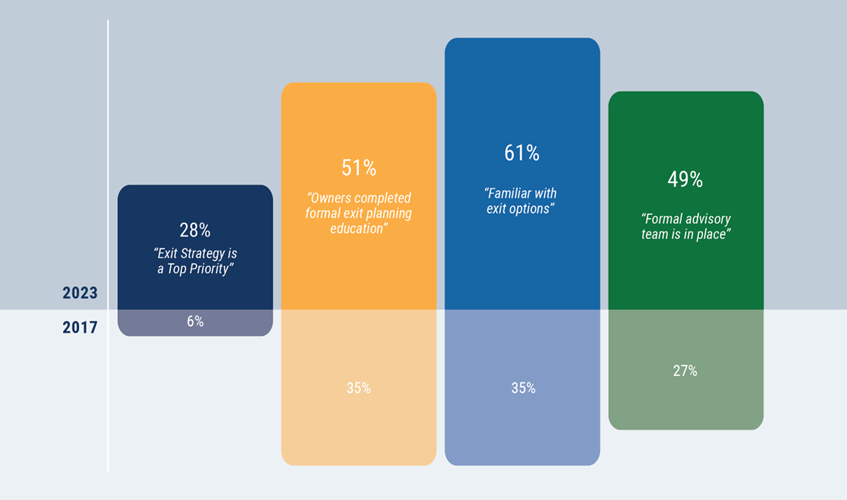 "The number of businesses prioritizing transition planning has skyrocketed, but it is still really low. We still have a long way to go to educate small business owners on how to transition their life's work."
—Brian Slipka, CEO of True North M&A and Sunbelt Business Advisors
5 Key questions to Consider:
1. Where are you in terms of preparation?
2. Who is on your formal advisory team?
3. Is your exit strategy written and documented?
4. What are your exit options?
5. Have you completed any formal exit planning education?
---
Questions about the exit process, or valuation?
Call us today (612) 235-3511.
---
About Sunbelt Business Advisors of Minnesota
The Sunbelt Business Advisors Minneapolis office is the largest office in the Sunbelt network with a staff of over 50 advisors, associates, analysts, and business development representatives. In 2021 the firm was recognized by the International Business Brokers Association as the #1 firm in the country and the first firm in history to sweep all three first-in class awards. Sunbelt provides services to business owners interested in selling their businesses, assistance with merger and acquisition activities, complimentary business value assessments, and advice to business owners seeking to maximize their life's work when they exit. The firm provides business brokerage and mergers & acquisitions services for companies with revenues from $500,000 to $150 million. More information is available at www.sunbeltmidwest.com (<Under $5 million revenue) and www.tnma.com ($5 – $150 million in revenue).