By Matt Silasiri – Marketing and Business Development Manager
Good news and bad news.
Let's start with the bad, shall we?
In a recent survey of 493 business brokers and M&A Advisors, 23% of advisors ranked "unrealistic seller value expectations" as the #1 reason deals fall apart (Market Pulse Q4 2022).
Here's a list of the top 7:
The Top 7 Reasons Deals Don't Close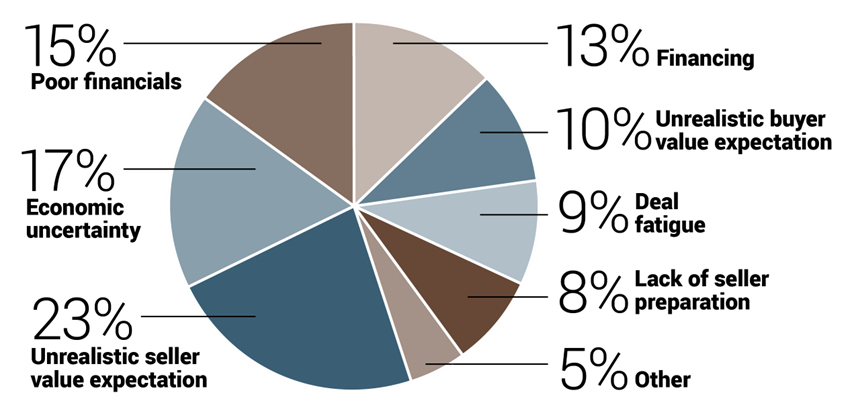 -Chris Jones, President
Sunbelt Business Advisors and True North M&A
---
Regardless of your company's size, there are pitfalls you must avoid in the exit process.
The same survey points out the variation in challenges amongst different company sizes.
Sub $2 million deals routinely struggle from poor financials and financing, while those in the $2 million-$50 million range tend to wrestle with unrealistic seller or buyer expectations.
The #1 Reason Deals Didn't Close, By Deal Size
"I've been involved in mergers and acquisitions for over 25 years, and early preparation by business owners has always been a hallmark of the most successful exits. Owners that begin preparations earlier typically are more knowledgeable in terms of price expectations and the selling process in general. They know what to expect, and they begin the education process 2, 3, or even 5 years in advance."
-Chris Jones, President
Sunbelt Business Advisors and True North M&A
---
Now, time for the good news.
You're able to avoid most of these pitfalls with preparation, and an easy first step is getting a valuation. We're always ready to assist.
If you'd like to learn more about exit strategy, we created a video series for you called 24 Rules to a Successful Business Exit. You can check them out here. These short videos are the ultimate quick-start guide of the exit process.
Questions about the exit process or valuation?
Call us today at (612) 235-3511.
---
About Sunbelt Business Advisors of Minnesota
The Sunbelt Business Advisors Minneapolis office is the largest office in the Sunbelt network with a staff of over 50 advisors, associates, analysts, and business development representatives. In 2021 the firm was recognized by the International Business Brokers Association as the #1 firm in the country and the first firm in history to sweep all three first-in class awards. Sunbelt provides services to business owners interested in selling their businesses, assistance with merger and acquisition activities, complimentary business value assessments, and advice to business owners seeking to maximize their life's work when they exit. The firm provides business brokerage and mergers & acquisitions services for companies with revenues from $500,000 to $150 million. More information is available at www.sunbeltmidwest.com (<Under $5 million revenue) and www.tnma.com ($5 – $150 million in revenue).