By Matt Silasiri, Business Development Team Lead
Importance of Exit Planning for MN Baby Boomer Business Owners
The baby boomer generation in Minnesota is reaching a significant transition point as they prepare for retirement. A wave of baby boomer entrepreneurs will soon be seeking the best path to ensure the future success of their businesses. There are multiple factors to consider before turning the page to the next chapter of their lives.
1. The Impact of Baby Boomer Retirements:
Nearly 29% of businesses in Minnesota are under baby boomer ownership. Within the next five years, these businesses will change hands, heavily influencing our future economic outlook. It is crucial to carefully consider the preservation of these businesses and the continuity of their legacies.
2. Understanding Succession Planning:
Successful transitions require meticulous planning. The first step for owners is to evaluate potential successors for the business. There are many exit paths, including internal buyers and external buyers. Selling the business to an internal buyer involves identifying and grooming potential successors to ensure long-term sustainability of the business. Selling to an external buyer involves evaluating the likely buyers, including Private Equity, Financial and Strategic Buyers. Both internal and external buyer options require that you 1) understand the value of your business 2) the buyer agrees 3) the deal can get financed. Don't put your eggs in one basket; evaluate all of your options ahead of time.
3. Seeking Professional Guidance:
Navigating complex business exit strategies requires the expertise of professional advisors. According to the State of Owners Readiness Survey completed in 2023 by the Exit Planning Institute, 50% of business owners haven't even begun this process. See below.
A transition advisory team should include:
Business Broker or M&A Advisor familiar with selling companies of your size
Accountant/Tax Advisor to help you navigate tax issues
Financial Planner to make sure the proceeds of a transition are sufficient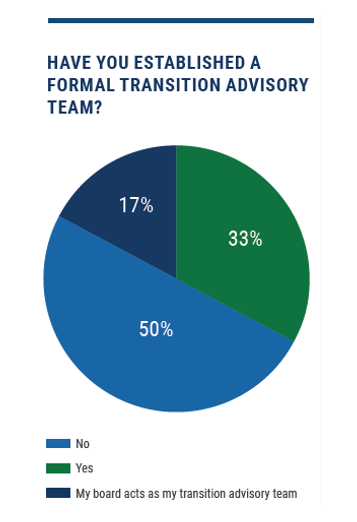 4. Valuation and Sale of the Business:
Determining the value of a business is crucial to securing a fair and successful sale. Owners who seek professional business valuations to assess the worth of their enterprises often maximize their net proceeds by setting an appropriate asking price with favorable terms.
It's vital you understand what is being valued. Many business owners fail to understand what is being INCLUDED in the sale and what is being EXCLUDED.
5. Legacy and Community Impact:
For many owners, their businesses often represent the culmination of a lifelong dream, hard work, and deep community ties. Considerations beyond financial gains, such as preserving a business's culture, come into play. Some owners may wish to explore transition options that allow their businesses to thrive while maintaining the core vision and community presence they have developed.
By engaging in comprehensive succession planning, seeking professional guidance, understanding the valuation and sale processes, and considering their business's legacy, owners can successfully embark on their next chapter while ensuring their businesses continue to flourish.
As Minnesota bids farewell to a generation of successful entrepreneurs, it also welcomes a new era of innovation and prosperity. With the right preparation, owners can secure a thriving future for both their businesses and the wider Minnesota landscape.
Reach out to our team at Sunbelt to talk about a no-cost business valuation.
---
About Sunbelt Business Advisors of Minnesota
The Sunbelt Business Advisors Minneapolis office is the largest office in the Sunbelt network with a staff of over 50 advisors, associates, analysts, and business development representatives. In 2021 the firm was recognized by the International Business Brokers Association as the #1 firm in the country and the first firm in history to sweep all three first-in class awards. Sunbelt provides services to business owners interested in selling their businesses, assistance with merger and acquisition activities, complimentary business value assessments, and advice to business owners seeking to maximize their life's work when they exit. The firm provides business brokerage and mergers & acquisitions services for companies with revenues from $500,000 to $150 million. More information is available at www.sunbeltmidwest.com (<Under $5 million revenue) and www.tnma.com ($5 – $150 million in revenue).